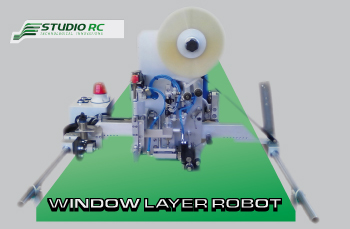 The WINDOW LAYER ROBOT has been designed to work with forming machines that form covered boxes, especially for the shirt-making industry. This is a patented unit, capable of automatically applying a layer of cellophane (or similar material) over the opening or window of shirt boxes.
The ROBOT is directly connected to the box-forming machine without the need for any modifications because the robot has its own independent power circuit.
The ROBOT applies the window made of transparent material on the paper sheet laid out and glued before the box is covered; it unwinds the correct length of film from the reel, cuts it and places it in the correct position with the utmost of precision and speed by means of a device that finds the centre position.
TECHNICAL DATA
- electrical system conforming to standards controlled by PLC
- max 42 windows per minute production speed
- reel film width from 30 to 60 mm
- film length max 110 mm
- pneumatic system working pressure 4-5 bar
- ROBOT height 500 mm
- transverse adjustment on conveyor belt for window, 100 mm per side in relation to belt axis.
- ROBOT width on gluing machine belt adjustable from 550 to 750 mm
- lengthwise positioning adjustable by 700mm
- accident prevention devices.